Quilters Corner is open from 9:00AM to 5:30PM Monday through Saturday and 12:00Noon to 5:00PM on Sunday and 24 hours on the Web at QuiltsInMontana.com
We love to create beauty with fabric and friends! We hope you can join us!



We are a Row By Row Shop!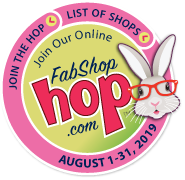 Our bunny loves the clearance section. Her favorite place to shop is the Clearance Kit department! Who doesn't love a good deal?!